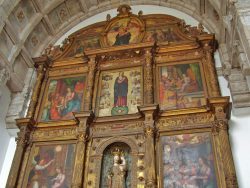 Discreetly situated at the angle of two streets and with an apparently simple architecture, this chapel deserves to be visited.
Although it is known as the Capela dos Alfaiates (Chapel of the Tailors), as the Brotherhood of Tailors built it, this small church is designated as Capela de Nossa Senhora de Agosto, and it displays the image of this saint on its facade.
It was built in 1554 very close to the Cathedral of Porto but, due to the opening of the Terreiro da Sé, it was removed from the site and in 1953 rebuilt in the place where it is currently. It is a National Monument since 1927.
Nossa Senhora de Agosto is the patroness of the Tailors, hence the veneration that led them to decide to build this small monument. Its architecture makes the transition from late Gothic to Flemish inspired Mannerism.
In the interior, besides the image in limestone of the Saint and S. Bom Homem (17th century), stands the altarpiece of Nossa Senhora de Agosto, made in gilded carving of the 16th century and in Mannerist style. It consists of a set of eight tablets with episodes of the life of the Virgin and Jesus: Annunciation, Adoration of the Shepherds, Adoration of the Magi, Assumption of the Virgin and the Child among the Doctors. To set is complete by the Coronation of the Virgin, flanked by the Visitation and the Escape to Egypt. The paintings were made between 1590 and 1600.
Rua do Sol / Rua S. Luís, Porto
Schedule: Monday to Friday 15:00-17:00
GPS: 41.143277204857, -8.6074742674828
(Visited 495 times, 1 visits today)