In the vicinity of the Porto School of Fine Arts, scattered throughout the São Lázaro Garden, there is a collection of sculptures that you should not miss.
Statue of António da Silva Porto by Barata Feyo
António Carvalho da Silva was a portuguese painter who later adopted the name of his home town as his surname, thus becoming known as Silva Porto.
He studied at the Porto Academy of Fine Arts, did an internship in Paris and Italy, and in 1879 returned to Portugal.
Among others, he received the gold medal of the Portuguese Industrial Exhibition of 1884 and the first medal of the Artistic Guild.
The bronze bust was designed by Barata Feyo, a sculptor and teacher, who had an important pedagogical action as a teacher at the School of Fine Arts in Porto.
He was a major figure in the second generation of portuguese modernist sculptors of the 20th century and sculpted this bust in 1950,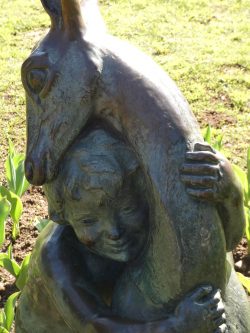 Tenderness Sculpture by Henrique Moreira
The sculpture Tenderness is at the centre of the garden, and recalls the portuguese who died in the Great War of 1914-18.
Henrique Moreira graduated from in Porto Academy of Fine Arts.
He left us vast notable works, such as the decorative Floreira of Avenida dos Aliados. His work has a naturalistic expressiveness, and the trend of Art Deco.
João Cutileiro's Torso sculpture
João Cutileiro attended the studio of Jorge Barradas and António Duarte as a volunteer and it was with the latter that he had contact with the stone for the first time.
He presented his first solo exhibition in 1951, at the age of 14.
He attended the Lisbon School of Fine Arts, and the Slade School of Art in London.
His themes were love, desire and the fullness of being, whose revelation in the field of nature is celebrated with respect and simplicity.
Marques de Oliveira by Soares dos Reis
Naturalistic painter and art critic, Marques de Oliveira was born in the city of Porto in 1853.
At the Academia Portuense de Belas-Artes, he stood out as one of the best students in the course of Historical Painting.
After a brief stint in Italy, he returned to Porto. He had a remarkable teaching career and introduced open air painting in Portugal with drawing as the basis of all his works. His long teaching career was considered remarkable, and led students to direct contact with nature.
In 1929, two years after his death, Porto paid tribute to him by inaugurating a monument in his honour by his friend and fellow countryman sculptor Soares dos Reis in Jardim de São Lázaro.
The great landscape architect's haughtiness is supported by an elongated bust. The straight and triangular structure of the face with small angular and impressive touches on the hair, beard and eyebrows.

(Visited 855 times, 1 visits today)