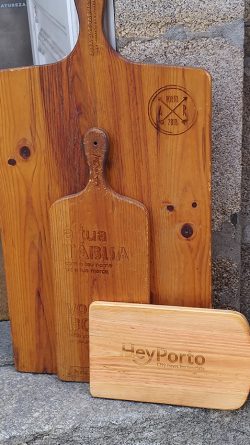 Have you visited Loja das Tábuas? It produces boards for most kitchen Chefs and markets traditional Portuguese products with national, raw materials and revitalizes them with a contemporary and elegant touch.
Visit it at the Palácio das Artes in Porto and find dozens of different models of cutting boards or tableware that you can customize with a laser engraving. In addition to the Portuguese pine, you will find, for example, oak wood boards, olive wood and various cork products. There you can find other utensils such as benches, wine boxes or national cutlery products.
At the end, take your boards in a reused litter pack to complete an experience that values tradition and past knowledge whilst creating emotions in the present.
Largo de São Domingos, 20
Palácio das Artes
Porto
+351222080067
(Visited 1,284 times, 1 visits today)