On January 31, 1891, the first attempt to establish the Republic took place in Porto. Discontented with the economic crisis and a British-launched Ultimatum, which called into question the Portuguese presence in Africa, a group of influential northern men led dozens of soldiers toward the center of the city with the intention of taking the Post Office and Telegraphs and proclaim the Republic. They were eventually blocked by the municipal guard, faithful to the Monarchy and placed on the steps of the Church of Santo Ildefonso.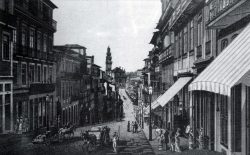 The Republic came to be proclaimed on the balcony of the City Hall, which would be the last stronghold of the rebels. Those who did not die in the battle would eventually be taken to ships stationed at Leixões. Others managed to escape abroad. The Republic would only be proclaimed in 1910.
The memory of this date still remains today in the toponymy of the city, with Rua 31 de Janeiro, in downtown Porto, as well as in the streets that have the names of the authors of this frustrated revolution: Alves da Veiga, Rodrigues de Freitas or Alferes Malheiro.
Source: O Tripeiro (New Series) Year X number 1

(Visited 2,190 times, 1 visits today)