SELF SERVICE LAUNDRY INFANTE
Rua Ferreira Borges,90,4050-252
A self-service launderette in the heart of Porto's Historic Center would never be just any other launderette. That's why it was a challenge for us to open the first launderette of this kind, a service which is so connected to the impersonal lifestyle of great urban spaces, in one of the most friendly and community-centered parts of the city.
The solution was to fill the Lavandaria do Infante with everything we like the most in the Historic Center, like its cosiness and its sincere beauty. And returning with something that didn't exist in Porto's Ribeira district yet: a modern laundry service, with top of the range equipment (the latest Miele washing and drying machines) which is open every day of the week with extended opening hours so that residents, travellers and tourist accommodation services can use them.
The Lavandaria do Infante is located on Comércio do Porto Street, in a late 19th century building, with views of the Douro River and is open everyday from 8:30 AM until 10:00 PM. The space was completely renovated and decorated by us as if it were our living room, and it has a small library, music and WIFI connection.
Customers are our guests. We want you to feel right at home.
Welcome!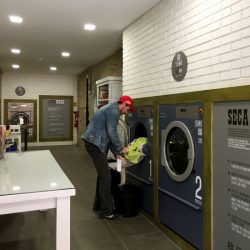 (Visited 968 times, 1 visits today)