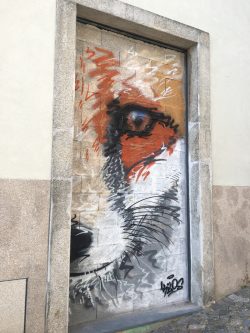 This is an art not yet understood by many. With a negative history associated, where vandalism and the destruction of public spaces were the watchwords, people look suspiciously at the artists who perform these type of works.
Nowadays, in an attempt to change mindsets and demystify this art form, projects are emerging all over the city of Porto.
Raul Pinto has a degree in Graphic Design at ESAD – Escola Superior de Artes e Design and is know in this world of art as Kilos. In 2018, he had his first solo exhibition at the Dedicated Store Porto, entitled "DEDICATED to Kilos". This year, Suuuper (Porto) held his second solo exhibition at entitled "Shhh!". Get to know some of his works!

(Visited 496 times, 1 visits today)